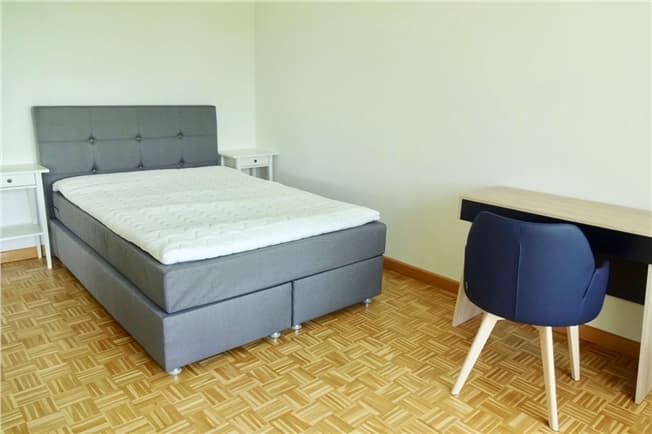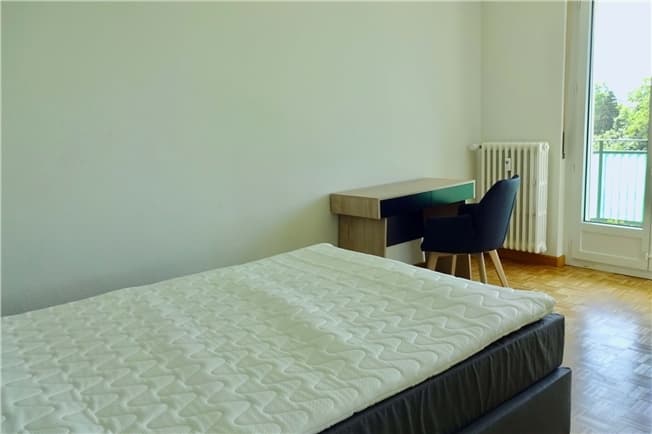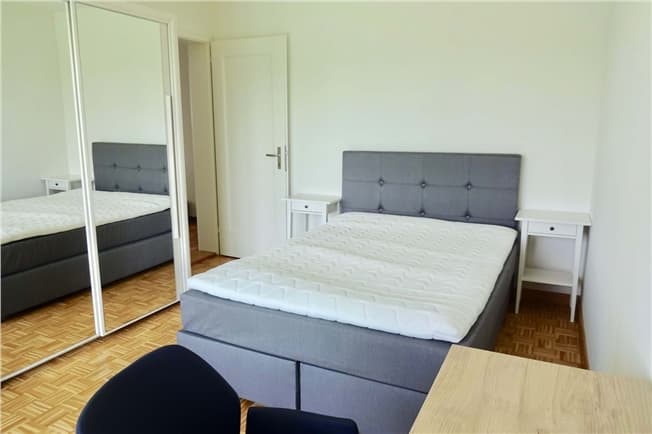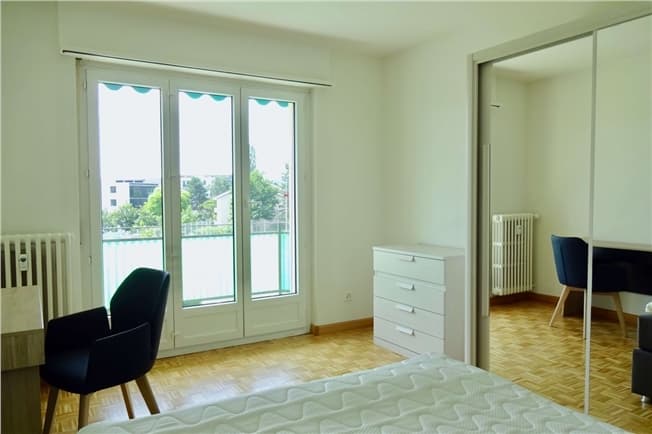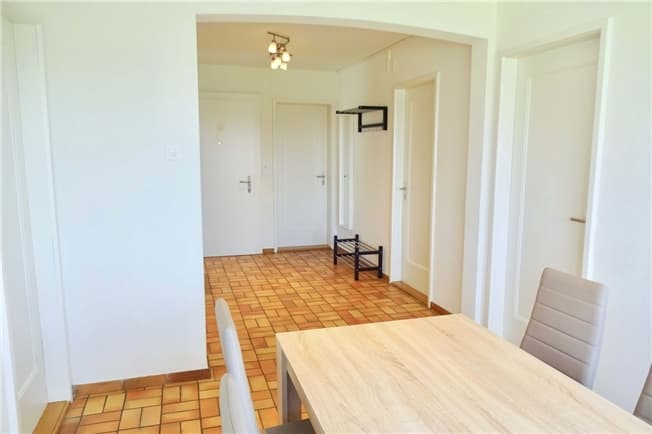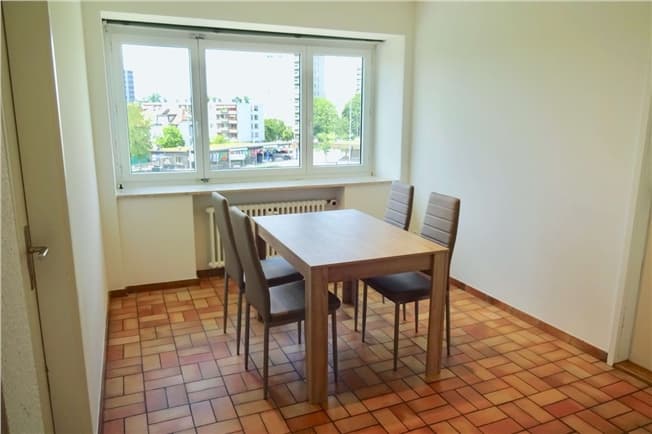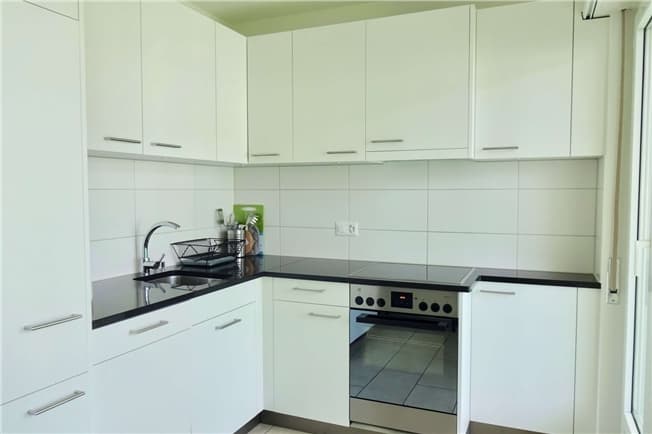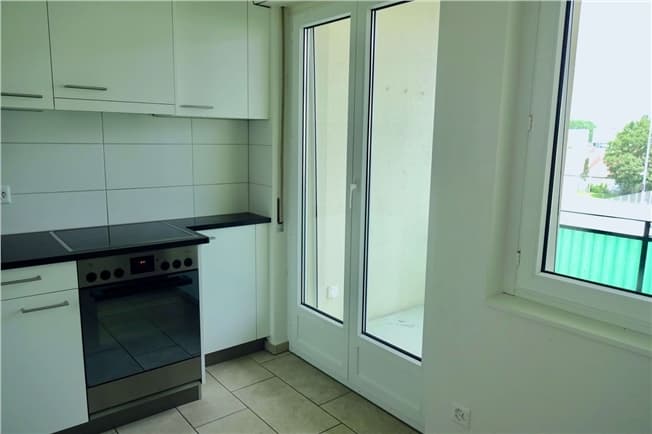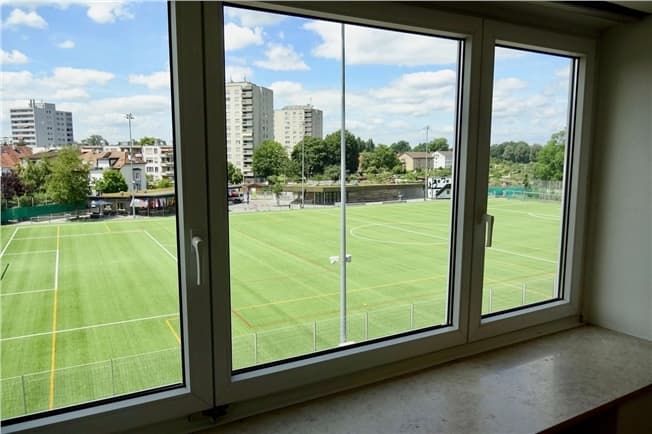 Room information
Room space

14m²

online since

2 weeks

Available from

01.01.2024
The following properties were extracted from the advertisement description (yellow highlights). Please check by means of the description whether the room/shared flat really has these properties.
furnished

balcony

individuality

cleaning service
Gefunden auf

Description
Die geräumige 4-Zimmer-Wohnung mit Küche, Bad und Balkon befindet sich im dritten Stock des Gebäudes. Das 14 qm grosse Zimmer ist geschmackvoll möbliert und mit unseren Services für junge Berufstätige ausgestattet. Diese Services erlauben unseren Mietern maximalen Komfort und Unabhängigkeit während ihres Aufenthalts in Basel. Zu unseren inbegriffenen Dienstleistungen gehören:


* Reinigungsservice für Küche und Bad
* Internet
* Strom + Wasser

Die Küche und das Bad werden von vier Personen geteilt. Der behaglich gestaltete Gemeinschaftsbereich in der Küche mit Essplatz ist ebenfalls vollständig möbliert und mit allen Utensilien wie Geschirr und Besteck ausgestattet. Zum einladenden Ambiente tragen mitunter unsere neuen und mit viel sorgfalt ausgewählten Möbel und Dekor bei.
https://roomestate.com/de/room/39-1
\
---
This spacious apartment with a kitchen, a bathroom and a
balcony
is on the third floor of the building. The 14 sqm and exclusively
furnished
room is equipped with our services for young professionals. These services offer our tenants maximum comfort and independence during their stay in Basel. They include:
*
Cleaning service
for kitchen and bathroom
* Internet
* Water + Utilities
The kitchen and bathroom are shared by four people. The comfortable dining area in the kitchen is also fully equipped with all utensils such as crockery and cutlery. Our new and carefully chosen furniture contributes to the inviting ambiance in the apartment.
More information:https://roomestate.com/de/room/39-1
\
---
Umgebung
Die Wohnung befindet sich an zentraler Lage im Viertel Basel Iselin. Wenige Meter entfernt befindet sich die Tram- und Bus- Haltestelle Morgartenring, von wo es direkte Verbindungen zum Bahnhof Basel und in das Stadtzentrum gibt. Der Bahnhof kann somit in weniger als 10 Minuten erreicht werden. Zahlreiche Restaurants und Einkaufsmöglichkeiten sind in unmittelbarer Nähe der Liegenschaft. Der Kannenfeldpark und der Schützenmattpark, welche gut zu Fuss erreichbar sind, laden zum Verweilen und Spazieren ein.
\
---
The apartment is located very centrally in Basel Iselin. Next to the apartment is the Tram and Bus stop Morgartenring, from where you have direct connections to the city centre and the train station Basel SBB. You can reach the train station within 10 minutes. Many restaurants and shopping possibilities are nearby. By foot you can get to the Kannenfeldpark and Schützenmattpark where you can go for a walk or enjoy the nature.
Wir sind
Room Estate ist ein Anbieter von möblierten Zimmern mit Service in mehreren Schweizer Städten. Unsere Mieter reichen von jungen Arbeitstätigen über Praktikanten bis hin zu Studenten.
\
---
Room Estate is a professional provider of
furnished
and serviced rooms in several Swiss cities such as Zurich. Our tenants come from different professionals or educational environments.
Wir suchen
Wir suchen junge Arbeitstätige, Praktikanten sowie Studenten, die es schätzen neue Leute kennenzulernen und bequem und komfortabel zu wohnen.
\
---
We are searching for young professionals, internees or students searching for a convenient and comfortable place to stay where you can meet new like-minded people.